Tour Leaders
Brydon Thomason
Nearer to the Arctic Circle than to London, the remote and beautiful Shetland Islands are Brydon's home. A born and bred Shetlander, he lives on the island of Unst, the most northerly of the British Isles, with his wife Vaila and their three children, Casey, Corey, and daughter Nula.
His interest in wildlife began early on the island of his birth, Fetlar, where his family can be traced back hundreds of years through the island's history. It was here on his family croft that his passion for wildlife began as a toddler.
From that early age Brydon was already tuned into the changing seasons and how they affected the landscape and the wildlife within it. This is something that fascinates him as much now as it did as a child some four decades ago. By the age of eight he had already begun to learn the ways of the island's otters and, by the age of eleven, he was well known amongst local Shetland birders.
With a lifetime of knowledge of the islands and their wildlife, and a genuine passion and enthusiasm to share that with others, setting up Shetland Nature in 2007 was a dream come true, allowing him to establish a fulfilling career built around the wildlife, islands and way of life that meant so much to him.
With this authentic insight the visitor experience offered by Shetland Nature is truly unique. Brydon's down to earth, friendly, and team-spirited nature has been key to success in building a team of like-minded wildlife professionals coming together to celebrate and share Shetland's natural heritage with the wider world.
Whilst a renowned birder, Brydon is, however best known for his work on Shetland's otters. In 2015, with Richard Shucksmith, he co-authored the acclaimed Otters in Shetland – the Tale of the Draatsi.
He has worked on and featured in over 15 television programs and documentaries as a consultant and guide, including high profile productions such as the BBC's Springwatch, Countryfile and The One Show, and blue chip documentaries such as the recently aired 'Wild Shetland: Scotland's Viking Frontier', produced by Maramedia.
As a photographer Brydon's passion lies with the wildlife he knows so well and enjoys so close to home, and in this regard he is best known for his work on otters as well as Shetland's rarer breeding and otherwise iconic species.
Although a deeply committed photographer when he has time, Brydon realised very early on that he would build a career around putting other people's desire to take memorable wildlife images before his own. He is therefore better known for his subject knowledge, field craft and responsible approach as a guide and facilitator. In 2019 he felt honoured to be invited onto the judging panel of the British Wildlife Photography Awards (BWPA).
In addition to being an Opinion Leader for Swarovski Optik UK and a brand Ambassador for Páramo, Brydon is also proud to be a volunteer with the Royal Maritime Coastguard Agency. However, even more than otters, his biggest love and the aspect of his life he feels most proud of is his family, and making sure time is made for them.
Susannah Parnaby
Susannah joined the Shetland Nature team in 2021, after ten years based at Fair Isle Bird Observatory with her husband David and an initial start in academia, focusing on rural development and agriculture. Love of the Isle has kept them in Fair Isle, where the family now run a croft alongside the normal island mix and match of smaller jobs and voluntary roles. Keen on birds since childhood, Susannah's interests have broadened to encompass a wide range of wildlife, particularly mammals, and she has a great fondness for beetles (definitely one of the best insect groups!). When they can, her family enjoy getting out and looking for wildlife, with holidays generally spent looking for birds and other things in the UK and abroad. The best part of working for Shetland Nature is helping others to have the same amazing experiences of wildlife that she and her family enjoy. Susannah always aims to combine this personal experience with skills learnt over a decade working in wildlife tourism to help guests get the most out of their time in Shetland.
Josh Jaggard
Josh is a freelance wildlife photographer, cameraman, drone pilot and guide. He is based half the year in Norfolk and half in Shetland. He has been guiding for Shetland Nature for 9 years, working mainly as the photography tour leader/manager.
His main passion is otters and has worked with them for the last 14 years in Norfolk and Shetland.
He studied Marine and Natural History Photography at Falmouth University. Since then he has worked on a range of tv shows like BBC Springwatch, Wild Britain and the new David Attenborough series 'Wild Isles'. Along with his filming Josh has been awarded in numerous wildlife photography competitions.
Josh also runs photography trips in Norfolk.
Website: www.wildlife-photos.co.uk
James Rogerson
James is a naturalist and photographer who recently made a permanent move to Shetland after years of travelling there for its incredible wildlife (especially otters). He has a background working in zoological institutions and worked for many years as lecturer in animal and wildlife management, he also holds a degree in Animal Behaviour.
He is now a full time wildlife guide. Working between Shetland and the West Coast of Scotland, where since the age of five he has been developing his fieldcraft and love of costal wildlife. James has worked with and photographed wildlife in destinations across Asia, Africa and Europe, his photography has been recognised and awarded across both national and international competitions.
Rob Fray
Rob originates from Leicester, where he was, amongst other things, County Bird Recorder and Chairman of the Leicestershire and Rutland Ornithological Society. He first visited Shetland in 1986 and after many years visiting the islands became a permanent resident in 2007. He is now part of the editorial team that writes the Shetland Bird Report and is jointly responsible for maintaining the Nature in Shetland website.
Rob won the national 'Young Ornithologist of the Year' competition (organised by the junior section of the RSPB) in both 1984 and 1985, and since then has been employed in a variety of professional and voluntary capacities relating to wildlife, including recent spells with the RSPB and the Shetland Biological Records Centre. He has been a wildlife tour guide since 2006.
One of his main interests is writing, and Rob has recently written 'Where to watch birds in the East Midlands' and 'The Birds of Leicestershire and Rutland', both published by A & C Black/Helm. His passion for wildlife is not just restricted to birds, with butterflies, dragonflies and especially moths being particular interests.
Rob is widely travelled, and has visited South and North America, the Caribbean, Asia and large parts of Europe in search of birds and other wildlife.
Iolo Williams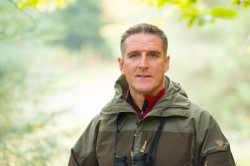 Iolo Williams is a Welsh naturalist, broadcaster, public speaker and writer who has worked in conservation for more than 30 years. Born and bred in mid-Wales, he worked for the RSPB for nearly 15 years before leaving to follow a career in the media. He has presented more than 20 series for BBC Wales and S4C and, for the past 6 years, has been one of the regular team of presenters on the BBC's popular "Springwatch', 'Autumnwatch' and 'Winterwatch' programmes. He has written several books in both English and Welsh and is a regular contributor to several magazines including 'BBC Wildlife'. He has addressed the Welsh Assembly on conservation issues on several occasions and in his spare time, he contributes to several wildlife surveys in Wales. Through his work, he is very well travelled and has been guiding throughout the UK for the past 3 years. In spring 2015, he travelled through Caithness, Orkney and Shetland for 'Springwatch' and despite taking a much-publicised televised tumble when he tripped and fell, on screen in pursuit of orcas, he describes seeing them on the Scottish coast as one of his greatest wildlife moments.
Kate Humble
Kate Humble is a writer and television presenter. Her television series include A Country Life for Half the Price, Back to the Land, Animal Park, Arctic Live, Lambing Live, Springwatch, Yellowstone, Off the Beaten Track, Extreme Wives, Living with Nomads & Wild Shepherdess. She also presented the award winning comedy game show Wild Things, wildlife quiz Curious Creatures and has made guest appearances on Would I Lie to You, 8 out of 10 Cats & Countdown.
She is the author of four books – including the soon-to-be published A Year of Living Simply and Thinking on My Feet: The Small Joys of Putting One Foot in Front of The Other (Shortlisted for the Wainwright Prize and the Stanford Travel Writing Award). She has been a columnist for The Telegraph, Top Sante, Country Smallholding and regularly writes for on wildlife, rural affairs, travel and wellbeing for various publications.
She set up Humble by Nature, a rural skills centre on her farm in Wales and founded Humble, a range of environmentally friendly, biodegradable bath & beauty products and home cleaning products. She was the first female president of the RSPB for 110 years, is currently president of WWT and is a qualified commercial diver. If you need barnacles removing from the bottom of your boat, she's your girl.
Laurie Goodlad
Laurie Goodlad is a Shetlander with a passion for Shetland's history, culture, landscapes and wildlife. She says, "I was born to the islands; they run through my veins, I have lived in Shetland all my life – bar four years at Dundee University where I achieved an MA in history and politics and, later, an MLitt in museum & gallery studies from St Andrews University.
"Islands have always inspired me; they're places where I feel at home. I can identify with the people and places and feel supported and nurtured by the familiar sights and smells of the sea surrounding them.
"My love of islands has led me to other areas in my writing, adventuring to the far-flung St Kilda, the Outer and Inner Hebrides and around Orkney.
"After graduation, I spent ten years working at Shetland Museum & Archives. Today, I'm part-time curator of the Scalloway Museum. I trained as a tour guide with the STGA and have led groups around Shetland since 2018.
"Most recently, I have written for Lonely Planet on two Scotland guidebooks, covering Orkney and Shetland."
Chris Dyer
Chris Dyer is a professional archaeologist, drystone mason, firefighter and runs Garths Croft Bressay, a sustainable agricultural holding focusing on traditional and heritage breeds of sheep, pig and poultry on the spectacular island of Bressay. At Garths Croft, drystone dykes have been built by hand to provide shelter to a newly planted woodland and create an environment for nature to thrive. Native Shetland sheep are bred for the variety of coloured fleeces whilst heritage breed pigs cultivate and improve ground which is reseeded with grass, arable crops and wildflowers. Lambs are born in late April/May, growing through the summer, whilst the sows farrow and raise piglets twice a year. A polycrub greenhouse structure provides the opportunity to be largely self-sufficient in fruit and vegetables.
Chris is an accredited Associate member of the Chartered Institute for Archaeologists (ACIfA) and has worked as a professional archaeologist and military historian for over twenty years, moving to Shetland in 2006 to take the position of Assistant Shetland Regional Archaeologist. He takes delight in the promotion, curation and interpretation of heritage, delivering walks, talks and related content from his island home at Garths Croft and throughout the length and breadth of the islands.
Roger Riddington
Roger Riddington first came to Shetland in 1992, a few weeks after finishing his PhD, when he worked as seabird officer at Fair Isle Bird Observatory. Well and truly hooked by the islands, he returned to Fair Isle in March 1994 for a four-year spell as warden of the bird observatory. In 1998 he moved to Shetland mainland and worked for three years as manager of Shetland Biological Records Centre. Then, in 2001, he became editor of the journal British Birds, working from his home overlooking the famous Pool of Virkie. After 20 years in the editor's chair, he retired from full-time work, but has continued with part-time consultancy and guiding. His main interests are seabirds and migration – perfect for a Shetland Nature Guide! He has guided many trips in Shetland and is well travelled in Europe and beyond.He lives at Virkie with his wife Agnes and is a current member of the national bird rarities committee, BBRC, and also of the Shetland Bird Club rarities committee.
Rory Tallack
Rory moved to Shetland at a young age and still lives here with his wife and two young daughters. Growing up in Shetland has provided him with an intimate knowledge of the islands and their natural and cultural heritage. Having always had a keen interest in the natural world, his passion for birding was sparked while working at the famous Fair Isle Bird Observatory. Rory has now worked in conservation and ecology in Shetland for almost 20 years, allowing his interest in, and knowledge of, Shetland's diverse natural heritage to extend far beyond his love of birds. He currently holds the position of Natural Heritage Officer at Shetland Amenity Trust, where he manages the Shetland Biological Records Centre, and he is a member of the Shetland Bird Club Records Committee.
Martha Smith
Growing up in the North Yorkshire dales Martha has always been a big fan of the outdoors. While studying zoology and behavioural ecology in Edinburgh she began exploring the Scottish Highlands and Islands and never looked back! She has spent 20 years working in nature conservation, mostly in Scotland with RSPB. Being drawn to wild and remote places, she is particularly fond of the North Isles of Shetland where she has lived and work for the last decade with some of Shetland's most iconic birds; red-necked phalaropes, red-throated divers, whimbrels and skuas.
Chris Rodger
Chris has been a keen birdwatcher since childhood. He became hooked on the birds of Scottish Islands when studying breeding tysties on Papa Westray (Orkney) as a Zoology undergraduate in the summers of 1995-6. This passion for island birds has taken Chris to work as warden and ranger on many islands such as Hoy, Rum, Islay, and Arran, and regularly visit many others. None, however, quite combine all the ingredients that Shetland offers and after working on Unst as Hermaness warden in 2000 and then Ranger on Fair Isle in 2001, Chris has returned to Shetland every year since, including researching an MSc dissertation on diving seabirds in Bluemull Sound in 2014. Following several years working as warden at the RSPB's Vane Farm reserve, Chris now works throughout Scotland as a freelance ornithological consultant.
Paul Harvey
Paul came to Shetland back in 1984 to be an Assistant Warden at the Fair isle Bird Observatory, fell in love with the islands and never left. He later became warden on that famous island followed by a stint with Scottish Natural Heritage on mainland Shetland and now works for Shetland Amenity Trust where he is a project officer for natural heritage and manages the Shetland Biological Records Centre. He has served on the British Birds Rarities Committee and the British Ornithologist's Union Records Committee and has contributed to several books about Shetland's birds and flora.
Gary Bell
Gary's passion for nature started at a young age, and by the age of 13 he recalls finding his first pod of Killer Whales while seawatching on a family holiday on the west coast of Scotland, a memory as vivid now as it was over 30 years ago. Gary originally moved to Shetland in 1983 and spent most of the remainder of the 1980s on the islands. Leaving to attend college and university in his home town of Edinburgh, Gary was the instigator and editor of the Lothian Bird Report and has served on committees for the Scottish Ornithologists Club, as well being a group leader for them and the RSPB. He has also undertaken ornithological survey work both professionally and voluntarily for the RSPB, BTO and SNH. Employed as an interpretive guide for nearly ten years with The City Of Edinburgh Council, Gary has a rare ability to communicate with a wide audience.
Mike Pennington
Mike arrived on Unst in Shetland to work on Hermaness National Nature Reserve in 1988 and he has been here ever since. Originally from Liverpool, he has a degree in Ecology from Loughborough University and worked at bird observatories at Sandwich Bay, Fair Isle and North Ronaldsay before moving to Unst. He edits the Shetland Bird Report, was senior author of The Birds of Shetland and has served on the British Birds Rarities Committee. He is interested in all aspects of the natural world, from bugs to blooms, and his most recent publication was a list of the Lepidoptera (moths and butterflies of Shetland). After teaching primary pupils at Baltasound Junior High School for 25 years, Mike took early retirement, because his wife Margaret had retired and he had to keep her company! Now, he spends his time looking at wildlife on Unst, visiting grandsons or travelling the world. Ironically, since retirement, one of his main tasks on Unst has been to continue the seabird monitoring on Hermaness, that he helped set up when he first arrived on Unst!
Pete Ellis
Originally from Yeadon, near Leeds in Yorkshire, Pete first visited Shetland in 1971. In January 1984 he moved here to set up home and take on the position of Shetland Area Manager for the RSPB, a position he held until retirement in 2016. Prior to this he worked as the RSPB's Investigations Officer for Scotland between 1979 and 1984. Now a grandfather of two, Pete still lives in Sandwick with his wife Jan.
He has nearly 40 years of experience in conservation, birding, monitoring and ringing birds in Shetland, which is ongoing. Pete is currently the Species Coordinator for Merlin and Sparrowhawk and assists with Peregrine for the Shetland Raptor Study Group. He is a Director of Fair Isle Bird Observatory and is the Conservation Officer for Shetland Bird Club.
Pete is a co-author of "The Birds of Shetland" and authored and co-authored a number of scientific papers on various subjects including breeding Merlins, Peregrines, Ravens, Leach's Petrels, Red-throated Divers, Arctic and Great Skuas in Shetland, Golden Eagles in Scotland and the migrant birds of Azraq in Jordan.
Pete has carried out bird monitoring and counting in several overseas countries. Between 2000 and 2016 Pete visited Jordan eleven times to monitor birds on various Royal Society for the Conservation of Nature (RSCN) nature reserves and train RSCN staff in bird ID and monitoring. In January 2010 he surveyed wildfowl and Curlew and searched for Slender-billed Curlew in wetlands in Syria.
In 1989 he found the first record of Great Knot for the UK, and in the 1970s the first breeding record of Shore Lark in the UK. Pete served nine years as a member of the British Birds Rarities Committee. His birding overseas has included in India, Eastern China, USA, Brazil, Argentina, The Falkland Islands, South Georgia and the Antarctic.
Glen Tyler
Glen lives in Shetland's southern Mainland, in Sandwick. After completing a degree in ecology, Glen worked for two seasons at Fair Isle Bird Observatory in the early 1980s, before a year in Shetland during which he was wardening Noss NNR. He then worked for the RSPB for 17 years in bird research, studying several rare bird species including corncrake, bittern, stone curlew and capercaillie in Ireland, England and Scotland. He has a PhD from his work on corncrake and grassland management. After a short time running a croft on Fair Isle he has worked for NatureScot since 2005, first as a local officer in Shetland and latterly as a Marine Ornithologist. A general naturalist as well as a birder, he has interests in moths, fish, and marine mammals among other groups.
John Moncrieff
Native Shetlander, living and working in Shetlands South Mainland, John has been a keen nature watcher since a young age. Brother to Shetland RSPB area manager Helen Moncrieff, John didn't have to look far to share a passion for local wildlife. Seeing his first Otter at the age of 6 or 7, they naturally to become his favourite subject. He took up photography in 2008, to capture and share images of local wildlife and scenery and likes to photograph anything from limpets to Orcas!
As well as featuring in national press and books, John has done well with images in competitions such as the British Wildlife Photography Awards. The newest recruit to the our renowned team of leaders, he is delighted to be able to devote more time to sharing Shetland with fellow wildlife enthusiasts.
Jon Dunn
Jon is a natural history writer, photographer and experienced wildlife tour leader based in the Shetland Isles, but with strong links in mainland Europe and North America that see him travelling widely in search of memorable wildlife encounters.
An accomplished all-round naturalist, Jon is the author of the critically acclaimed "Orchid Summer", the "Britain's Sea Mammals" field-guide, and co-author of the "Britain's Mammals" field-guide. Jon writes the weekly "Rarity Round-Ups" for Rare Bird Alert, and is currently writing a hummingbird book for Bloomsbury and Basic Books. His writing and photography feature in many popular wildlife magazines, including BBC Wildlife, Birdwatching, and British Wildlife.
He credits a childhood living in the rural West Country of England for his lifelong interest in all things natural history based – a childhood spent exploring the water meadows and abandoned orchards of the Somerset Levels, and the droves and ancient woods of Dorset's Blackmore Vale. Before long he had spread his wings further afield and was travelling widely around the British Isles and then further afield in search of birds, butterflies and orchids.
A move to Shetland some 20 years ago found him happily living in one of Europe's great wildlife habitats, with Otters literally on his doorstep, and summer evenings spent watching Harbour Porpoises from the kitchen window.
Meanwhile, Jon is never happier than when he's out in the field with his camera trying to do justice to the wonderful wildlife he encounters on his travels; though sitting watching the sun set over the sea in Shetland while he writes about what he's seen comes a very close second for his affections. Once stalked by a Mountain Lion whilst birding on the edge of Mexico's notorious Sierra Madre Occidental, he generally prefers experiencing wildlife on his own terms and not as part of the food chain.
Rachel Bigsby
Rachel is a proud Nikon Creator, opinion leader for Swarovski Optiks and official bird photographer for the RSPB.
Her work has become internationally recognised through competitions such as Bird Photographer of the Year, and her documentation of the Avian Flu crisis in seabirds was published globally by the prestigious National Geographic Society.
Rachel actively engages in public speaking and community projects, and was a guest speaker for Nikon at The Photography Show and a judge of the RSPCA's 2022 photography competition. She was most recently highly commended in the Bird Photographer of the Year awards, out of 22,000 people across 150 countries.
As well as a wildlife photographer, Rachel has filmed long lens wildlife for BBC Earth, Springwatch and Countryfile to name a few including badgers, kingfishers, seabirds and fox cubs. She also assisted Simon King for an upcoming blue chip documentary with Sir David Attenborough.
Using her skills and platform, it is Rachel's ambition to raise awareness of the plight of seabirds and wildlife whilst breaking down barriers that prevent young women and girls from flourishing within the bird watching and wildlife photography community.
Alongside her work as a wildlife photographer and filmmaker, Rachel manages digital marketing for two well-known wildlife charities.
Kevin Morgans
Born in Cheshire, UK, Kevin is a multi-award-winning wildlife photographer, tour leader and photographic guide with a passion for UK wildlife. Widely published and with a formidable social media following. Kevin was last year a category runner up in Nature Photographer Of The Year and was proud to see his mountain hare image grace the cover of the prestigious British Wildlife Photography Awards collection in 2018. He's also had multiple awarded images in International photography competitions such as the Windland Rice, Nature Image Awards and Environmental Photographer Of The Year.
Specializing in the British Isles, from the highest mountains to the coast. Kevin's work celebrates the beauty of UK wildlife across the seasons. He is an experienced guide who has been running 1-2-1 and group workshops for many years, using his experience and passion to help others best photograph the natural world.
David Tipling
David has worked as a freelance wildlife photographer since 1992. Birds have been a passion of David's since childhood and so it is no surprise that these are the focus of his work. David has written and been the commissioned photographer for more than 40 books on birds and wildlife photography, including the best selling RSPB Guide to Digital Wildlife Photography. He has collaborated with some of the UK's leading nature writers including Jonathan Elphick and Mark Cocker. It is with Mark that he is currently working on Birds & People the world's largest survey of cultural attitudes to birds worldwide and is in association with BirdLife and Random House Publishers. David is one of the most widely published wildlife photographers in the world. His pictures have been used on hundreds of book and magazine covers, regularly on TV and in just about every other conceivable way from wine labels to being projected in New York's Time Square. Sir David Bellamy has described David's pictures as "windows of wonder".
Recent TV appearances have included a short film on photographing Nightjars with Chris Packham which was featured on Springwatch, with further recent appearances on Anglia TV again featuring photographic subjects within Norfolk. In 2009 along with co presenter Chris Gomersall he once again appeared in front of the camera for the Wildlife Photography Masterclass DVD. David's work has won him many awards such as European Nature Photographer of the Year Documentary Award, multiple wins of BBC Wildlife Photographer of the Year and Nature's Best where most recently in 2009 David was awarded the Indigenous Cultures Award for his work on Mongolian Eagle Hunters. In 2008 he was named as one of the worlds top 50 wildlife photographers by Digital Photography Magazine. David is a regular judge for photography competitions, notably British Birds Bird Photographer of the Year and the International Wild Bird Photographer of the Year. He is photographic consultant for British Birds Magazine and writes a regular monthly column for East Anglia's biggest selling paper the Eastern Daily Press in which he showcases local wildlife in pictures.
Richard Shucksmith
Inquisitive by nature, I love being outside following, watching and observing animal behaviour. One of my favourite places is the coast as it has a wide variety of habitats, species and dramatic seascapes. For me the sea encompasses the power, turmoil and beauty of the world in which we live.
I have always been drawn to water, rivers and lakes in my childhood and as time progressed the coast and the sea. It was not until my late twenties that I set out to find more about these watery habitats. It lead me to study Marine Biology at the School of Ocean Sciences, University of Wales, Bangor before moving to the west coast of Scotland to the Scottish Association of Marine Science where I undertook a PhD in marine ecology. It was an incredible journey and still is for me, exploring the ecology of freshwater and marine ecosystems. During this time I used my interest in photography to document many of the animals and habitats I studied. In my spare time I would track and photograph otters and SCUBA dive, photographing marine life.
The digital era was taking over, the ability to be so creative with digital photography was overpowering, and really took a hold of me. I found myself spending more and more time, exploring the natural world through my camera lens, and I loved it. A dilemma built in me and I found myself debating science or photography, but the enjoyment of being in the field working on photographic projects won. In recent times I have found ways to combine both photography and science.
Moving to Shetland gave me the opportunity to pursue my fascination with otters. What really interest me is otters living on the coast and how they use the marine habitats. This has led to an otter obsession, spending thousands of hours with my camera, photographing, following, observing otter behaviour and how they make a living along the Shetland coastline.
Tesni Ward
Tesni is an award winning, professional wildlife photographer and OM SYSTEM ambassador based on the outskirts of the Peak District. While the majority of her work focuses on British wildlife, she also photographs projects across the world and has aspirations to promote conservation and a greater appreciation for wildlife and nature through her images.
Raymond Besant
Raymond is a born and bred Orcadian. From an early age his binoculars were never far from his eyes, observing and learning about the abundant local wildlife. When not looking for Hen Harriers, one of his favourites he spent my summers exploring seabird islands with camera in hand. Today Ihe is still happiest on the cliff top filming seabirds in stormy seas, breathing in the salty air. After graduating from the Robert Gordon University with a Bioscience degree (Hons) he embarked on a career as a press photographer for the Press & Journal newspaper in Aberdeen however interest shifted towards photojournalism and people, leading to travels in Europe and Africa as well as documenting stories closer to home.
Now his focus has returned full circle with his passion focused back on nature. His debut film was a real labour of love, 'The Flying Dustbin' documented how the Fulmar, a seabird related to the Albatross is affected by plastic pollution in the North Sea. I filmed, produced, edited and narrated the film which won two awards at the International Wildlife Film Festival in Montana and a finalist at Wild Talk Africa in 2009.
He is now a well known long lens wildlife cameraman, filming a wide range of programmes for the BBC Natural History Unit and BBC Scotland and 'Highlands – Scotland's Wild Heart and has become something of a regular on BBC SpringWatch through the four seasons as a long lens cameraman. He has recently been working with Plimsoll Productions in Sri Lanka and Zambia filming everything from Grey Langurs to Hyenas. Raymonds skills as a cameraman and local knowledge as a naturalist shines through in his book 'Naturally Orkney', published in 2014. He is now working on the follow on – 'Naturally Orkney – Shorelines'.
Pete Morris
Pete lives in Lancashire, England with his wife Nina and sons Jack and Josh.
He has been birdwatching for as long as he can remember, growing up on the North Kent Marshes and at Dungeness. After graduating in Environmental Science at the University of East Anglia in 1987 he spent a year working at English Nature before taking off overseas. He lived for a time in Australia, returning to Britain to work as an environmental consultant.
In 1996 Pete began working for Birdquest, one of the UKs larger bird tour companies. As a tour leader, over the past few decades, he has travelled very extensively in every continent and to numerous islands, indeed there is hardly anywhere in the world that Pete is not familiar with. Pete has led over 150 tours worldwide and has an enviable reputation as a doggedly persistent tour leader who tracks down the specialities of everywhere he guides.
An avid and accomplished photographer, and lover of all aspects of wildlife, Pete also retains a strong interest and passion for areas closer to home. He likes nothing more than a visit to some of the UKs remoter islands, and has spent many an holiday in the Isles of Scilly, the Western Isles and the Shetland Islands, the latter particularly popular in recent years!
Pete has published many articles and photographs from his travels and also given illustrated lectures. Pete is the senior author of the well-received Birds of Madagascar: a photographic guide (1998).
James Tait
James Tait grew up in a crofting community in the South Mainland of Shetland where his family has lived and worked the land for several generations. James returned to Shetland immediately after university to train and work as an accountant however he decided this was not the career he wanted to pursue for the rest of his life full time.
Interests in the outdoors and nature has led James into tour guiding with "Island Trails", first as an employee and then from 2012 as the business owner. James enjoys planning bespoke tours to fit customer's individual requirements and interests with an emphasis on the unique history and culture of Shetland. He is also a committee member of the Shetland Tourism Association.
James is involved in agriculture running the family croft with his father and brother where they keep a flock of just over a hundred sheep. In addition to the guiding James likes to be outdoors walking and bird watching in his spare time. He also enjoys photography, reading and anything to do with the traditional life and dialect of Shetland.
Paul French
Paul's introduction to Shetland came with YOC trips to Fair Isle in the summers of 1995 and 1996. Quickly becoming hooked with the heady mix of stunning scenery and seabirds, he vowed to return as assistant warden on Fair Isle as soon as he was old enough. This ambition came to fruition during the seasons of 2001 and 2002. After two successful seasons on Fair Isle he spent two seasons as RSPB Assistant Warden on Fetlar, followed by a season at Sumburgh Head and then five years working in habitat creation and restoration on the wonderful RSPB reserves of Frampton Marsh and Freiston Shore and in the Trent valley. He is currently a freelance ecologist and tour leader, as well as being the Chairman of the British Birds Rarities Committee and a member of the British Ornithologists Union Record Committee. Paul has also published articles on identification in both British Birds and Birding World and was a contributing author for the popular Birding Frontiers "Challenge" series.
Micky Maher
Micky is a professional ecologist and nature tour leader from Newcastle-upon-Tyne. His love of natural history started with numerous forays into Northumberland National Park and coast with his parents when he was a child. Thereafter, his goal was to work in the conservation sector. At seventeen he was studying at Northumberland College and at the same time working for the National Park and Countryside Service. Micky went on to work for many of the UK's conservation and wildlife organisations, including RSPB, BTO, WWT, The National Trust, The Wildlife Trusts, Scottish Natural Heritage and JNCC. In 2001, after a spell in the Seychelles, he came to live in Shetland and took up the role of Site Manager at Noss NNR. Feeling as though he'd arrived home, he then went on to work as the North Shetland Ranger two years later.
Micky has travelled throughout the world in search of wildlife, in particular birds and cetaceans. He has a natural and respectful affinity with the Sea, and has recently had the privilege to swim with Whale Sharks and Mantas in Maldives, Blue Whales in Sri Lanka and Killer Whales in Norway!
Identifying and recording wildlife and the wonders of migration are high on his list of favourite things to do and as such, he was Shetland's bird recorder for five years, a member of the Shetland Sea Mammal group committee and now serves on the British Birds Rarities Committee.
After leading his first guided walks as a teenager in Northumberland, he has continued to guide holidays throughout Europe and Asia, with Shetland high on the list of favourite destinations. Micky is proud to work with a team at Shetland Nature, which contains many long term friends, and was delighted to be best man at the wedding of Brydon and Vaila in the summer of 2008.
Juan Brown
Juan has worked in conservation for the past 18 years. He was warden on the Farne Islands in Northumberland, before moving to Shetland in 1998. Half way through the second season as warden on Noss, a career opportunity presented itself, and he spent the following eight and half years as Warden on the Welsh island of Skomer. At the end of 2007 Juan followed the pull back to Shetland, settling down with his partner Jane and young daughter Martha in their house overlooking the isle of Mousa. Following a season wardening Mousa and Sumburgh Head for the RSPB, he now works for Scottish Natural Heritage in Lerwick, visiting his beloved Noss as often as possible. In addition to a wealth of general natural history knowledge, Juan is a keen birder with a track record of rarity finding.
Martin Garner: In memory of a dear friend and colleague
In early 2016 Martin very sadly passed away. Martin was a huge part of how we have developed over recent years. He was not only a huge inspiration to us all but a dear and trusted friend too. Once described by Dominic Mitchell as 'requiring excitement management', Martin was married to Sharon for 20 years and they have 2 daughters, Emily and Abigail. He was birding since he was 11 years old, was always interested in thinking outside the box, an approach to life which lead him to finding the first Caspian Gulls in Britain. He was a hugely valued member of the British Birds Rarities Committee, a renowned and respected identification consultant and the creator and leading force behind the internationally enjoyed BirdingFrontiers website. He was the director of the Free Spirit Trust, a Christian Charity involved in bringing transformation to tough situations in Sheffield and Rwanda as well as coaching leaders in mission and in the business community. He published many papers on identification and highly respected author of three best selling books; 'Frontiers in Birding' and his 'Challenge Series'. He loved wild places, new discoveries and trying to inspire other people to reach their full potential in life. We miss you, but will never forget you Martin.